Let's consider what is these days a heresy: Corporate Communication is separate to Public Relations. The two operate largely in isolation, similar to the Marketing and PR silos described in the A ("Apart"/"Silo") model.
We will call this Model X, and illustrate it using the following model: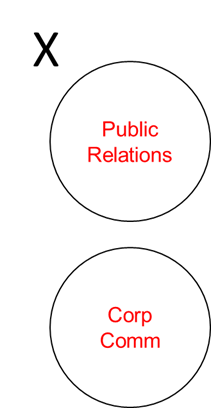 In Model X, PR and Corporate Communication are separate. PR handles all communications targeted at external stakeholders; Corp Comm creates all communications intended for internal stake holders.
Simple? Perhaps. But in companies that offer technical goods and services, can such a separation be operationally realistic? Must there not be some informational overlap? If the public require product knowledge, yes. If internal communications contain product information, yes. Given the certainty of these practical requirements therefore, how can these two functions be isolated? Stakeholders - both internal and external - will have technical information requirements, but the model features no such explicit linkage illustrating the mode or source of this adhesive.
...continue reading