Building the Smart Car
The Micro Compact Car (MCC) supply chain demonstrates a strongly developed supplier/manufacturer relationship. The Smartville plant embodies high supply chain integration, to the extent that production and 90% of capital is transferred to MCC's suppliers.
The following diagram outlines the basic flows in the Smart Car manufacturing system.
Smartville: The MCC Internal Supply Chain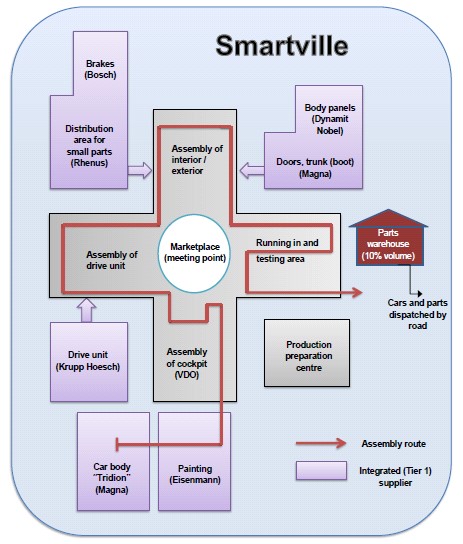 The carmaker has overall responsibility through its performing the dual role of module aggregator and process manager.[1] However, all seven integrated suppliers have specific sub-responsibilities. Their co-ownership, co-design, onsite incorporation, and performance of critical processes make them constituent and irreducible components of the Smartville system (hence "integrated").
The main modules are pre-assembled by the seven integrated, first-tier suppliers, who provide MCC's assemblers with their components according to an assembly sequence initiated by orders arriving at MCC. Assembly is performed as the body moves around the plant's assembly area, which resembles a cross-pattern, as shown in Figure 1 (adapted from Verma, 2010).
The process starts with Magna, who supplies and constructs the "Tridion" body. The Tridion is then painted either black or silver grey by another supplier, Surtema (Eisenmann division). The painted body enters the first stage of the assembly cross on a conveyor belt, where another supplier, VDO, mounts a pre-assembled cockpit inside the Tridion. The Tridion then continues through the cross to Krupp Hoesch, who installs the rear module. Rhenus then installs various small parts, Bosch installs the brakes, Dynamit Nobel installs the plastic body panels, and Magna installs the doors and trunk (complete with internal wiring). Further supplies, such as seats and wheels, making up about 20% of volume, are provided by non-integrated (offsite) suppliers. All modules are delivered line-side on a Just-In-Time basis for assembly by MCC.[2]
---
[1] Section 2 provides extensive details on this matter.
[2] See Appendix A.2. for a diagrammatic outline of the customer-facing side of the Smart Car supply chain. See Appendix A.3. for a diagrammatic outline of the production-end of the Smart Car supply chain.