This game-like activity demonstrates the weaknesses and strengths of differing operations layouts. Briefly, the game requires students to design a layout through which a simple object constructed of Lego can be produced. The object is produced through a sequence of stations. A transformation activity occurs at each station. The game comprises four steps and two phases.
In Step 1, the tutor provides material and explains the activity. In Step 2, students prepare for play by constructing a sequence of stations through which material flows, aggregates, and changes form on its way to becoming the finalised product. This is Creative Element 1: initial layout configuration.
Play begins in Phase 1 (Step 3). During rounds of play, teams can reconfigure their designs freely, ideally employing learning from previous lectures. Creative Element 1 thus continues throughout Phase 1. After three or four rounds, the tutor halts play and tallies each team's productivity. Phase 2 then begins.
In Phase 2 (Step 4), the tutor introduces multifunction workstations, alternative supply arrangements, and other new options. Students can select freely from these to modify their layouts for improved efficiency. This is Creative Element 2: layout reconfiguration using new options.
At the end of several rounds of play, teams report their performance improvement vis-à-vis the first round. The tutor may declare an absolute winner (based on payment for products completed and/or minimum system waste, for example).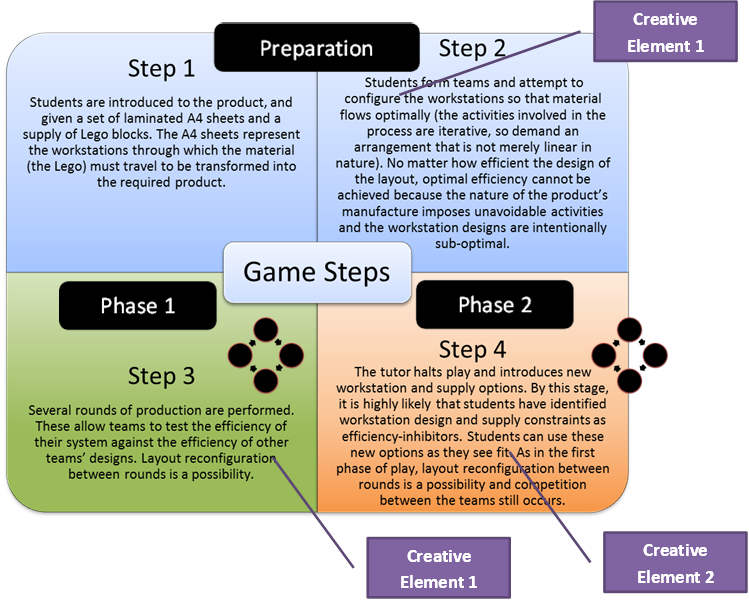 The Layout Game: A Reflective and Creative Assignment
Creative Element 3 occurs during the assignment. The assignment has three parts:
Reflect on the problems and positives experienced during Phase 1: discuss the constraints observed.
Reflect on Phase 2: analyse the nature of the efficiency gains observed during Phase 2, after the changes were applied.
Create and explain (drawing on theory if necessary) an ideal The best reports will demonstrate how layout efficiency is influenced by workstation functionality and supply arrangements. Students can choose to demonstrate their ideal layout by any means: a video demonstration of Lego and paper (i.e. the format used in the original game), PowerPoint animation, 3D models (virtual or Lego), drawings and/or diagrams, flowchart, human re-enactment, mock-up life-size props, or any other method.