Roger's trinity (1983) of congruence, empathy, and unconditional positive regard influenced this design. Congruence has a three-fold integrity (pedagogic alignment, cognitive structuring, theoretical and practical alignment, i.e. praxis). Triadic empathy occurs when business studies teachers successfully match the needs of employers with the needs of students with the needs of sustainability and global awareness (the last being particularly relevant for MNEs[1]). Unconditional positive regard reflects the anthropophilic and aspirational optimism inherited from the supporting philosophies.
Business studies teachers are constrained by the expectations and requirements of students who are paying to discover how businesses are managed; few will be overly concerned with GC issues above business matters. Nevertheless, because global business is a major driver of migration, financial and intellectual capital flow, technology transfer, poverty reduction, and enhanced living standards, its GC-significance is substantial.
If the discussion of GC is value-laden, ethical complexities arise. If the framing of GC is positive, capitalism and the power of MNEs are indirectly praised; if the framing is negative, the same are critiqued. For this reason, GC in business studies would concentrate on presenting the theories, effects, and nature of business internationalization, and omitting explicit discussion of ideologically sensitive matters such as hegemony and politics.
 Curriculum Description
The curriculum item to receive GC modification is entitled "global logistics and supply management". It is a level V unit that has been running for the last three years, with student feedback improving year on year. Business studies and combined honours students are typical participants. The unit complements an extremely popular international marketing unit.
There are multiple sub-disciplines within business studies. Operations management is one such sub-discipline (see Figure 2.). Operations management, according to Schroeder (1993), concerns the processes that yield the material of businesses, i.e. saleable, capital-attracting goods and services. Operations management has its own sub-disciplines, among them supply [chain] management (Mentzer et al, 2001). "Logistics" is these days subsumed by supply management, and is primarily concerned with modes of physical distribution (Christopher, 2011). When operations – be they production, retail, or distribution – internationalise, supply chains are created, and with them issues of culture, politics, language, transport logistics, and macroeconomics assume strategic criticality.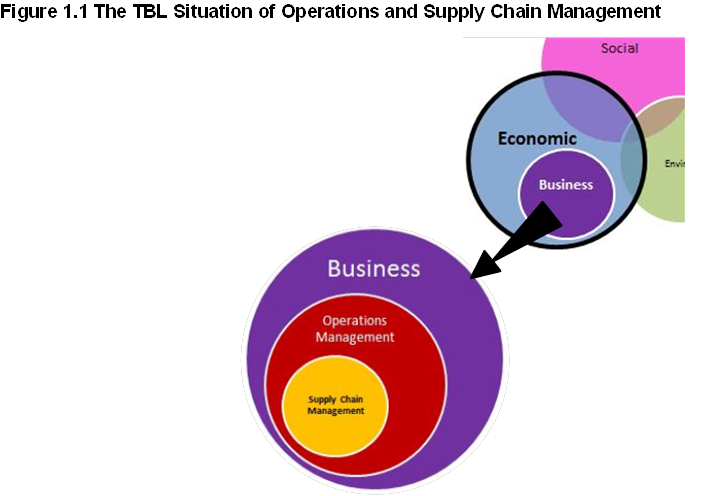 NOTES
[1] Multinational Enterprises, also known as Transnational Corporations (TNCs) or Multinational Companies (MNCs).
_______________________________________________________________________________
This curriculum design aims to teach the main factors and characteristics of transnational business and its GC-relevant aspects in the context of international logistics and supply. There are however three basic modes of integration, each with their respective strengths and weaknesses (described in Table 2.1).
Oxfam claims (2006) GC is not an additional subject; GC is an ethos. On this basis, the teaching of an intrinsically international phenomenon, such as business, necessitates comprehensive integration of GC concepts within the focal material. Also, because the study of global supply management demands concerted analysis of the many factors and effects of internationalisation, separating GC from the focal material would impose a false conceptual and practical separation.
For these reasons, the more integrated horizontal approach was selected. The combined approach was rejected on the grounds that it implies an equivalence (i.e. of GC with business) that in a business unit would be inappropriate; in the case of global supply/business studies, GC issues represent a critically informative, but secondary dimension.
According to Rizvi (2000), any GC-fortified curriculum would prioritise the skills of inquiry and analysis, and make reflexivity demands on both students and staff regarding content and methods, including consideration of varied forms of culturally sensitive and inclusive assessment. For this reason, the assessment features a group task and assessment design is reflexively considered.
Also speaking of GC education generally, Beck (2000) claimed GC should be training-like in its outputs. That is, it should focus on inculcating practical skills, cross-cultural fluencies, social interaction, team-working, systems thinking, and management of conflict and change/uncertainty.
According to Edwards et al (2003), despite loud calls from academics, the internationalisation of business studies curricula has been modest. In response, they propose three outputs for the internationalisation of business curricula specifically: international awareness, competence, and expertise. These are vaguely defined, but "competence" and "expertise" imply compatibility with Beck's outputs.
Case studies feature strongly in the envisaged tutorials for three reasons: many demonstrate how MNEs have resolved complex international business challenges using capabilities similar to the outputs described by Beck (2000) and Edwards et al (2003); the method is strongly endorsed by prestigious business-teaching institutions such as Harvard (Ellett, 2007); and, because heterogeneous contributions facilitate the attainment of GC-incorporative learning objectives (McKee and Scandrett, 2016), case study discussion among international cohorts should provide space for diverse voices and perspectives.
Curriculum Integration Modes Compared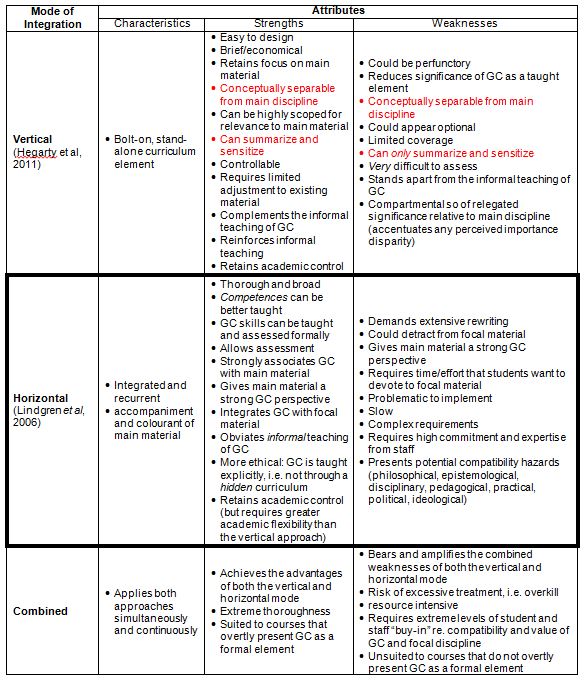 The next table (below) presents each element of the planned curriculum and the principles of the MMU Strategy for Learning, Teaching and Assessment (MMU SLTA) and the descriptors of the UK Professional Standards Framework (UKPSF) with which they correspond most closely. The final column of the table provides an outline of the relevance of each element to GC specifically.
The curriculum plan described in the table below is an adaptation of an already existing curriculum in which GC perspectives are not explicitly addressed. The envisaged curriculum, therefore, is a modification of known-good content enriched by the inclusion of business-pertinent GC concepts and issues.
The process used to develop the plan was comparable with the "Four Rs" model by Sterling (2012) and, albeit with definitional flexibility, the RAPID model by Lozano (2010). Of the two models, the Four Rs (retain, revise, reject, and renew) serve the horizontal integration approach more effectively, since they compel adaptation more than large-scale reform. In the development of this curriculum plan, relevant material was retained; valuable points were revised (or expanded); redundancies were rejected; and mainstay, established material was renewed in light of GC and points of business-GC convergence, such as corporate social responsibility and the application of operations' efficiency methods to achieve sustainable development objectives.
The formally planned curriculum (outlined in the table below) is the overt, explicit manifestation of practice. However, according to Leask (2009), intercultural competencies may be effectively developed via informal educational mechanisms too, such as the campus milieu and students' culture. Interaction between home and foreign students – in formal and informal settings – develops the cultural sensitivities and skills of all (hence the group assessment task).
A "hidden" curriculum also exists (Weller, 2016). This occulted counterpart is conveyed – largely unintentionally – by implications and tacit assumptions driving curriculum content decisions and learning/teaching styles (Portelli, 1993).[1] The beliefs and values of educationalists, the epistemological foundations of disciplines and institutions, and the ontologies of the societies where teaching occurs shape both form and content of pedagogic processes (Sharpe and Oliver, 2007). In the case of this curriculum, the "hidden" content will be its ontological/philosophical housing (described in the first section of this essay) and the Anglicized nature of its conveyance.[2]
Curriculum Plan: Content, Compliance, and GC-Relevance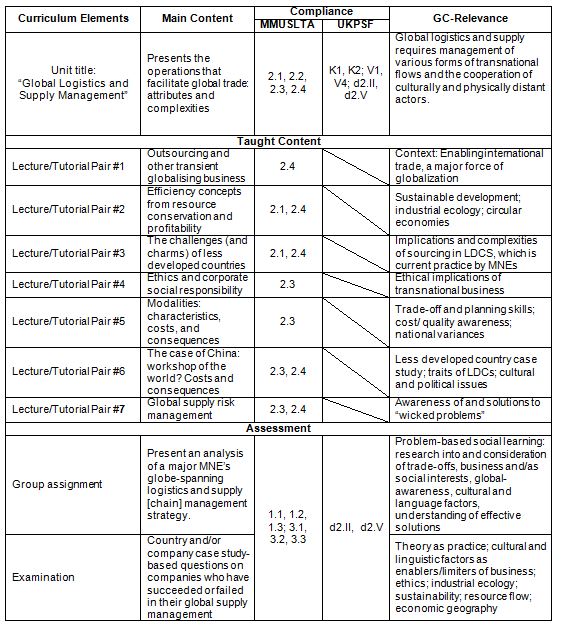 NOTES
[1] Presumably language, non-verbal communication, gender, cohort composition, participant feedback, and myriad other factors also transmit the hidden curriculum.
[2] Whether or not attempts should be made to craft teaching into a de-cultured, philosophically-decoupled, value-neutral pedagogic instrument remains largely undiscussed and untheorized.