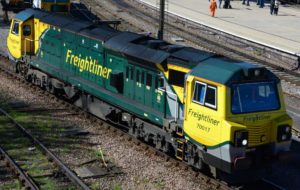 Rail is another form of land-based transportation. The United Kingdom and most European Union countries have extensive rail networks. In the United Kingdom, private rail freight providers offer highly competitive rates for companies moving large and heavy bulk materials, such as shipping containers, aggregates, liquids, and other high-volume, high weight loads. Material by the train-load is highly economical, provided the volume is sufficient to merit the single train-load configuration. In most cases, volume requirement is sufficient (low volumes tend to go more economically by road), hence train-load configurations are these days more common than wagon-load.
(In the wagon-load configuration, wagons carrying different loads are marshalled together by shunting to form the train. in the train-load configuration, all the wagons that comprise the train are loaded with the same material or cargo - ideally for the same customer.)
The train-load formation is typical of UK freight by rail, with only a few companies these days committed to and capable of profitably configuring wagon-load trains. The case of intermodal containers is representative. Few of the UK's rail freight operators perform intensive wagon-load operations, since wagon-load configurations require marshalling processes that incur non-value adding activities. Freightliner, for example, prefers to run trains that include empty intermodal wagons rather than shorten trains according to exact requirement. Shortening the train is regarded as an unnecessary and uneconomical operation, so is avoided. Costly marshalling is minimized. In Continental Europe, marshalling yards are more common, but still impose a profitability constraint.
With the Channel Tunnel, inward rail freight has increased. Inside the United Kingdom, shipping container movement is currently the most common type of freight moved by rail. Although the advantages of rail are considerable, the disadvantages are also acute. The following describe the advantages and disadvantages of freight by rail. ...continue reading →